Eleven Honored for Service by Vidalia Board of Education!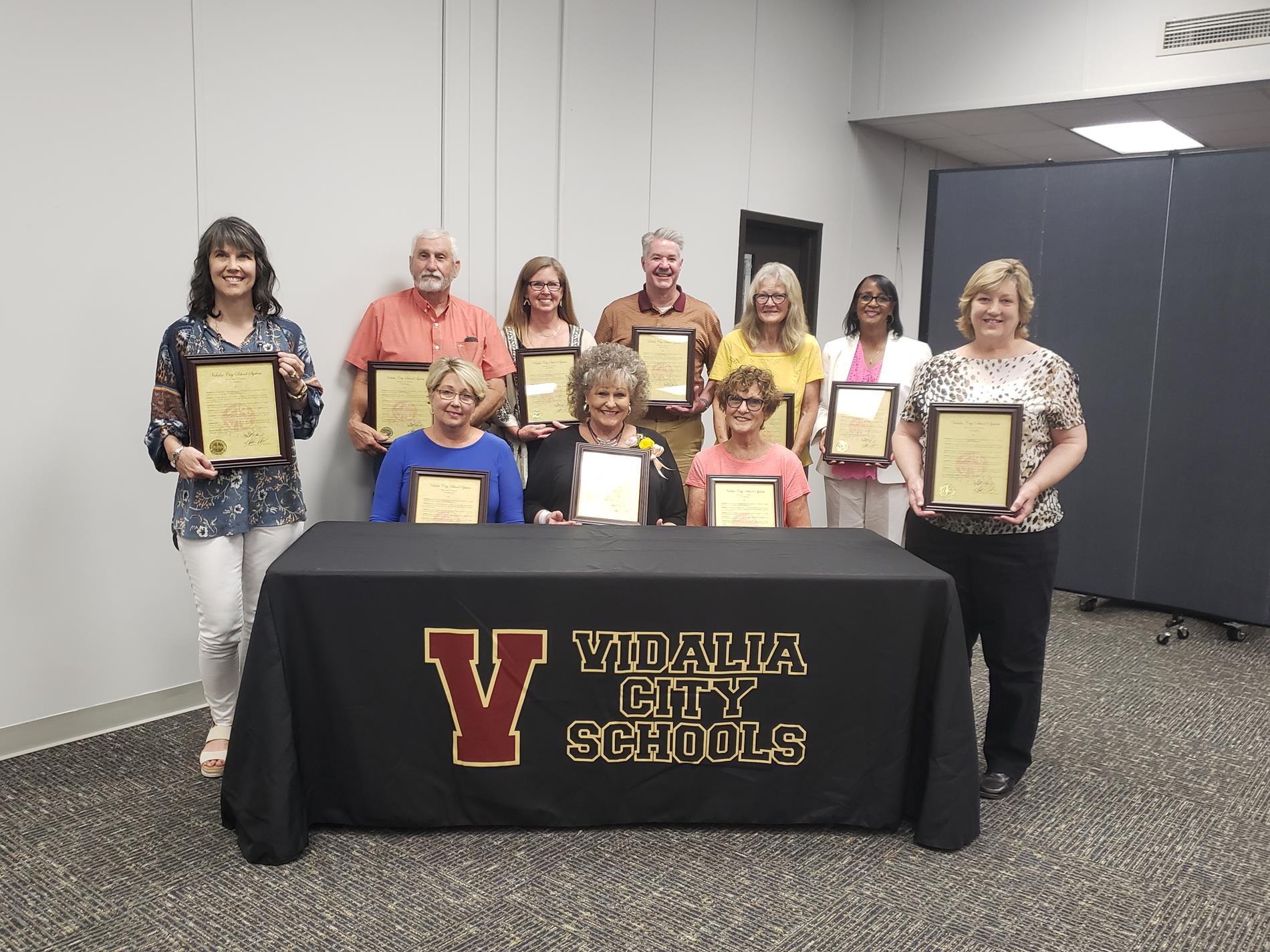 ---
Eleven longtime employees who are retiring at the end of the year were honored at the May Vidalia Board of Education Meeting on Tuesday. The group that includes Educators and Central Office Staff, Paraprofessionals, Lunchroom staff, and Transportation Staff have accumulated 297 years of service.
Longtime Vidalia High School teacher Jan Barfield, who has 46 years of service along with 41-year veteran teacher and Media Specialist Phyliss James make up almost 30% of the groups 297 years, said, "there's nothing in life she'd rather to have done than teach. I love what I've done, and I hate leaving, but it's time. I've got a lot to do! I won't be bored!"
James said that she is grateful for the time she has spent at Vidalia High School, "I am grateful for the opportunity to have worked at VHS for 40+ years! My heart is for the many students I have taught. I still hear from many of them and it's a good day when one drops by to visit or sends a text! However, I know now it's time to retire and spend quality time with my family. We are blessed with 4 precious grandchildren, and I look forward to making more sweet memories with them. I will miss all my colleagues and students and wish them all successful years ahead!"
Along with Barfield and James, others retiring are J.D. Dickerson Media Specialist Sarah Montford (35 yrs), J.D. Dickerson Teacher Lori Harn (32 yrs), Vidalia High School Counselor Chris Carroll (31 yrs), J.R. Trippe Teacher Tracy Lovelace (29 yrs), Vidalia City Schools Accounting Specialist Sandy Seidling (23 yrs), J.D. Dickerson Paraprofessional Harriett Smiley (20 yrs), J.D. Dickerson Paraprofessional Lexs Wright (13 yrs), J.D. Dickerson School Nutrition Assistant Wanda Nanney (12 yrs), and Bus Driver Gene Fountain (10 yrs).
Vidalia City School Superintendent Dr. Garrett Wilcox said that the system has "been blessed" to have such quality people in the system for such a long time. "These are individuals that have dedicated a great portion of their life to education and helping to mold young people into quality citizens. Their service is not only greatly appreciated but it is going to be missed."